Mike Judge, le créateur de Beavis & Butt-Head et de King of the Hillde travaille actuellement sur une nouvelle série de dessins animés autour d'une famille particulièrement obsédée par tout ce qui est green.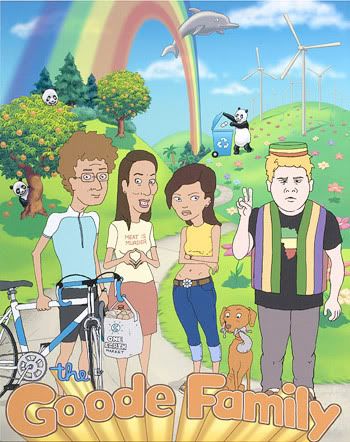 Chez les membres de la famille Goode, il faut toujours bien faire écologiquement, politiquement et socialement parlant. Une famille tellement politiquement correct qu'elle en devient ridicule.
De la mère de famille activiste locale au chien végétarien la série promet d'aborder avec un humour décapant tous les thèmes du
cycling au recycling
.
La chaîne américaine ABC a signé 13 épisodes qui seront diffusés en prime time dès novembre. Gardez un oeil sur le net pour suivre cette série à mon avis pas piquée des vers !
Plus d'infos et une vidéo en anglais:
ici
.